Architect's Pack 5 (v1.1)
€4,99
Green rooms are supposed to be relaxing places
Creator



Private Message
Description
This pack sees us return from the desert to Galen's Manor, where we sneak into his "Green Room", because someone forgot the key in the door, and we've always wanted to know what was behind that locked door to see what makes that strange crackling sound.  It turns out the Green Room is indeed green, and it seems the stone wasn't quarried from anywhere nearby.
The Dungeondraft Architect's Pack #5 includes over 165 assets and a high-resolution encounter map.
Note: this pack has two zip files, each containing a dungeondraft_pack file.
Special highlight – rock terrain:
12 rock terrain – 4 versions in black, green and rust-brown (that play well with Rock Terrain Packs 1 and 2)
6 high resolution versions of a spiral rock floor pattern – 2K and 4K versions in the standard three colors (you can make amazing landscapes with these large area patterns)
All the above are provided as patterns and terrain (terrain are best applied using Dungeondraft's "smooth blending" option)
All of the above are found in the "Rock Floors" zip and dungeondraft_pack files
Special highlight – high resolution landforms (double, triple, even quadruple their size):
12 canyon side objects – canyons, split down the middle into separate objects, in black, green, and rust-brown colors
24 pits – 2 versions of pit, three colors, with black bottoms or open bottoms (to fill with water, lava, etc.)
9 mega rock formations – 3 big blocky forms that can be blended together, resized, etc., in three colors (your player's hands will cramp from rolling too many Athletics checks) 
And more
20 walls – green stone variations of the 10 unique versions from Architect's Pack #1 (also provided as paths)
8 special decorative wall edge paths – 6 versions with variations (these paths blend into walls and are offset to easily apply with snapping)
16 rock paths – 4 versions with color variations, edge line or faded edge (for blending with other surfaces)
12 green marble tile floors – 6 versions with cracked variants (also provided as terrain)
25 uniquely stylized green patterns (also provided as terrain)
1 colorable stylized magical floor overlay pattern
4 pillar objects – green stone variants of the pillars from Architect's Pack #1
5 colorable arcane pattern overlay objects  (e.g., use transparent white for an engraving effect or another color for a magical effect)
5 lights based on the arcane overlay objects
4 magic portal objects – 3 colored and 1 colorable (note: you won't find these portals in Dungeondraft portals menu because they are designed to be filled with light and wall portals don't work that way) 
1 basic portal object for use in blocking/containing light (when placing this object, set it to block light, then place one or more lights inside it to make it glow, add colored portals on top) 
1 colorable cobblestone effect object
6 lights – 2 versions of textured lights in full, half and quarter circle variants
"The Green Room" map, 12×12, 256ppi (an expanded view of this pack's promo pic at full resolution without title watermark)
This pack is licensed for personal use.  A commercial use licence is available in my store.
The Architect's Pack series includes Architect's Pack #1, Architect's Pack #2, Architect's Pack #3, Architect's Pack #4, Architect's Pack #5, and the Architect's Festive Pack.  Packs 1-3 are available in a discounted Builder's Bundle.
Pack cover art showcases assets from Architect's Packs #1, #2 and of course #5, Rock Terrain Pack 1, and furnishing assets by White Fox Works.
Visit https://ko-fi.com/epsilon7430 for my free maps and to support my art.
You may also be interested in the Terrain Bundle for Dungeondraft.
Sample Map – "Beyond the Green Room Magic Portal" (33×16), featuring assets from Architect's Pack #5, as well as Wastelands Pack.
Sample Map – "Arcane Erosion" (10×10), featuring terrain assets from Architect's Pack #5, walls and portals from Packs #1 and #2, and colorable Anzhc's topographic assets contouring the rock slope.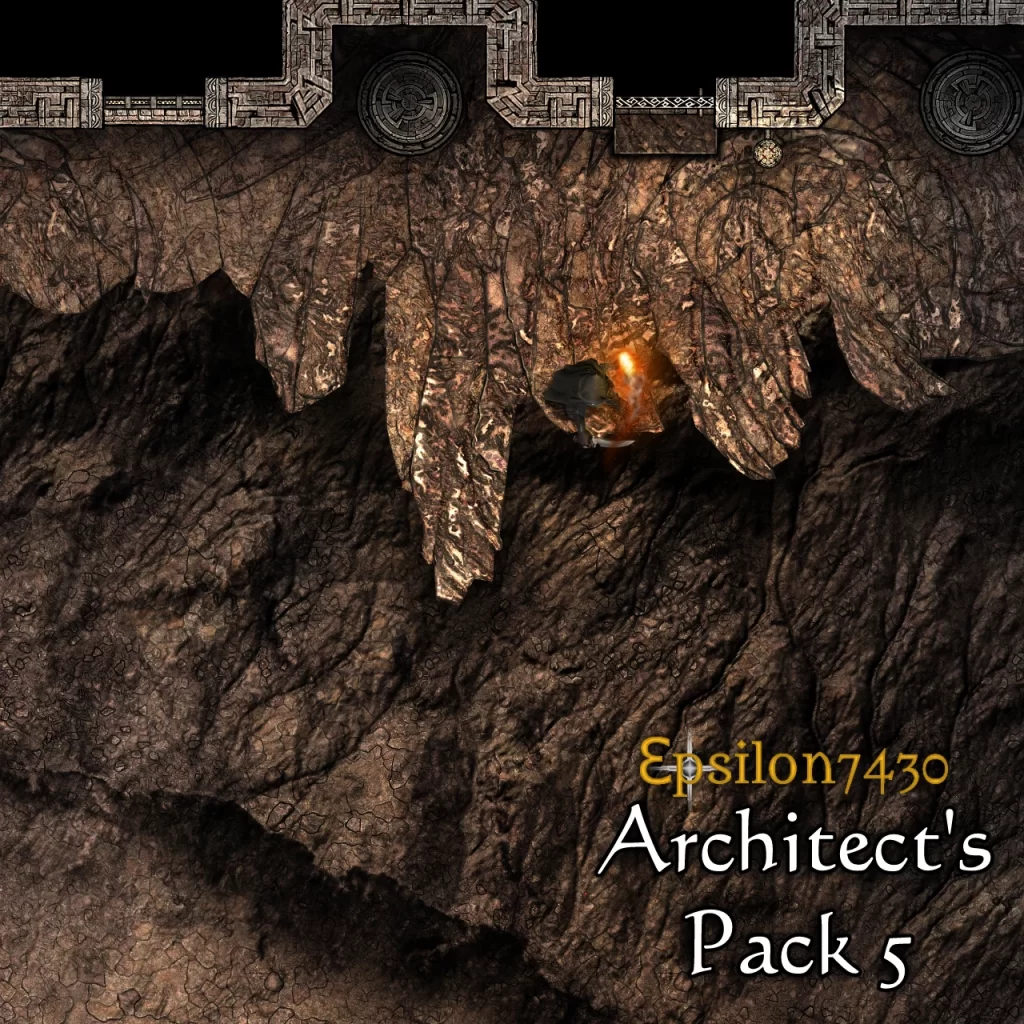 License Information
License Type
CAL-BY-NC-NS
Posted by original creator
Name of creator
License Notes

Personal use only. Fan-Content sharing allowed. See Licence Agreement.


Commercial License URL
Map Information
Assets used in Map




Map Size




Map Theme
Map Style
Content Information
Category
Tags
Asset Series
Vendor
Software Information
Verified to Work With
Dungeondraft
Mythkeeper Compatible
Follow this creator!And stay updated on new content, blog posts, updates and more by this creator!
Changelog
V1.1 - replaced licence.txt with Google Drive link to licence file.
Documentation
How to Install
Wiki
You may also like…
€

11,99

Creator:

Epsilon7430