Epsilon7430 First Anniversary Celebration
On June 29, 2022, I became an RPG asset pack creator with the release of my modest first pack, Astral-Ethereal. Twelve months on, I reflect on somehow finding the muses and the time to create 29 novel packs, all while holding do
wn a full-time day job!  Check out the Anniversary Bundle which includes the 27 priced packs.
Being a Wonderdraft and Dungeondraft user, I mainly make assets for use in those tools, and for map outputs to be used in tabletops like Foundry VTT which can take full advantage of HD art.  I'm a big fan of the semi-realistic art style and most of my Dungeondraft assets fit that style, though I have experimented with other styles in some packs (e.g., Horror Terrain Pack).
My 10 terrain packs were created using Quadspinner's Gaea software, with some significant post-processing in other art tools to produce consistent style and variations.  What started as classic rock terrain soon evolved into wastelands, horror landscapes, and inevitably blood and bones (see the Terrain Bundle); even the Enchanted Terrain Pack was partly created in Gaea.
The mainstream arrival of generative AI image tools in late summer 2022 inspired the Architect's Pack, which grew to become a very popular 5-pack series for Dungeondraft, plus two accessory pac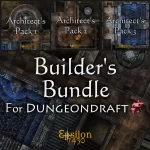 ks, and the Sci-Fitecture Pack.  Creating these involved using a combination of hand-drawn templates for walls, floors, and objects, enhanced with AI inpainting, and finished with extensive post-processing.  They were labours of love.
During this past year I've found that the most enjoyable phases of pack development are 1) creating the final promotional art using the new assets (who doesn't want to make a map?), and 2) writing an entertaining pack product introduction (without the aid of ChatGPT).  In my admittedly biased opinion, the three packs with fun, stand-out intros are the Builder's Bundle, Architect's Pack 4, and the Enchanted Terrain Pack. 
Creating all 29 packs over the past year has been a rewarding mix of hobby and work, and I encourage anyone thinking about creating RPG map assets to just go for it!
Time for some acknowledgements:
Thanks to White Fox Works for producing amazing assets to fill the rooms in my promotional art.
Thanks to Nexoness for providing CartographyAssets.com and for being a supportive host.
Thanks to members of the CartographyAssets creator community for their advice and support, especially Ti (Feed the Multiverse), Turambar, PeaPu and Moulk.
A huge thanks to Baileywiki for his fantastic how-to Dungeondraft tutorials and for profiling my art in at least two of them (check out this Reddit post).
A tremendous thanks to Anzhc for giving me the opportunity to playtest his topographic assets, and for introducing me to Gaea and generative AI image tools.
And a very special thank you to all of my customers who purchased my assets and are making amazing maps with them!
Thank you for a great year!
Epsilon7430
Check out the Anniversary Bundle which includes the 27 priced packs