Examples
Here is a quick screencap from a world built using these assets. This is pre-lit in Dungeondraft and then re-lit further within Foundry VTT.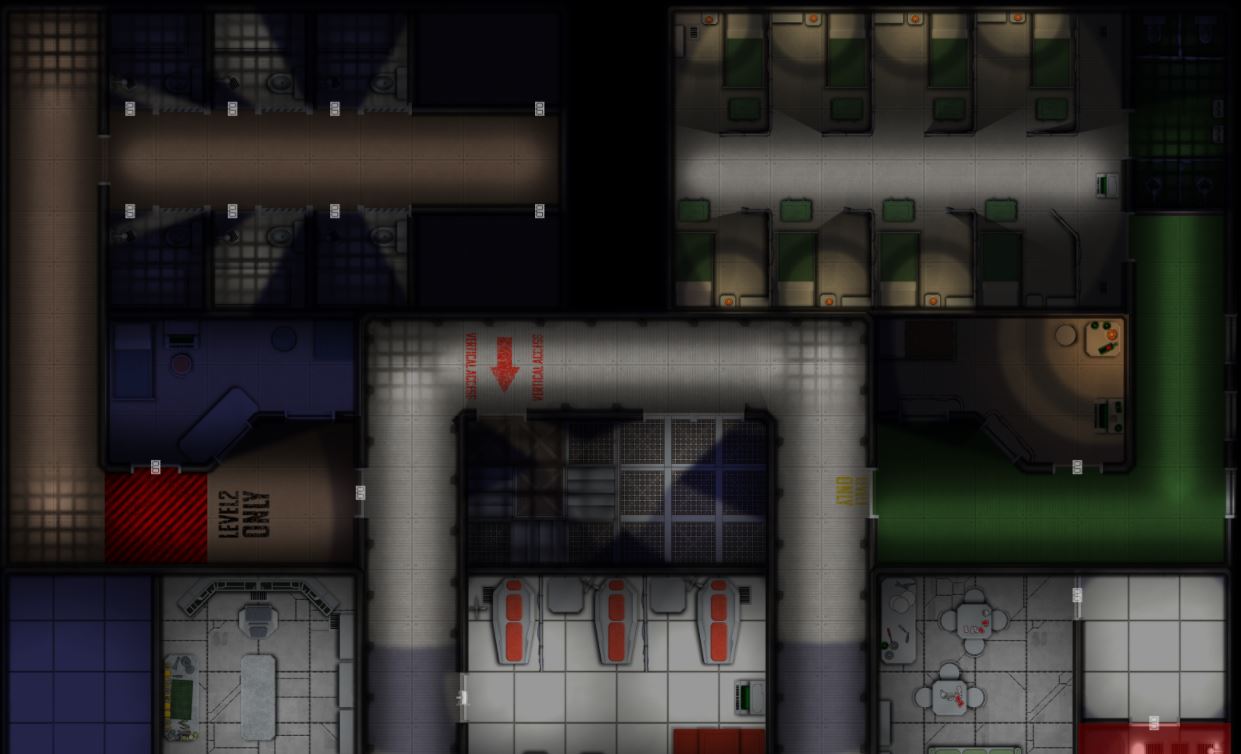 Included Assets
I've tried to cram most of the included assets into this picture. Anything in red is colorable.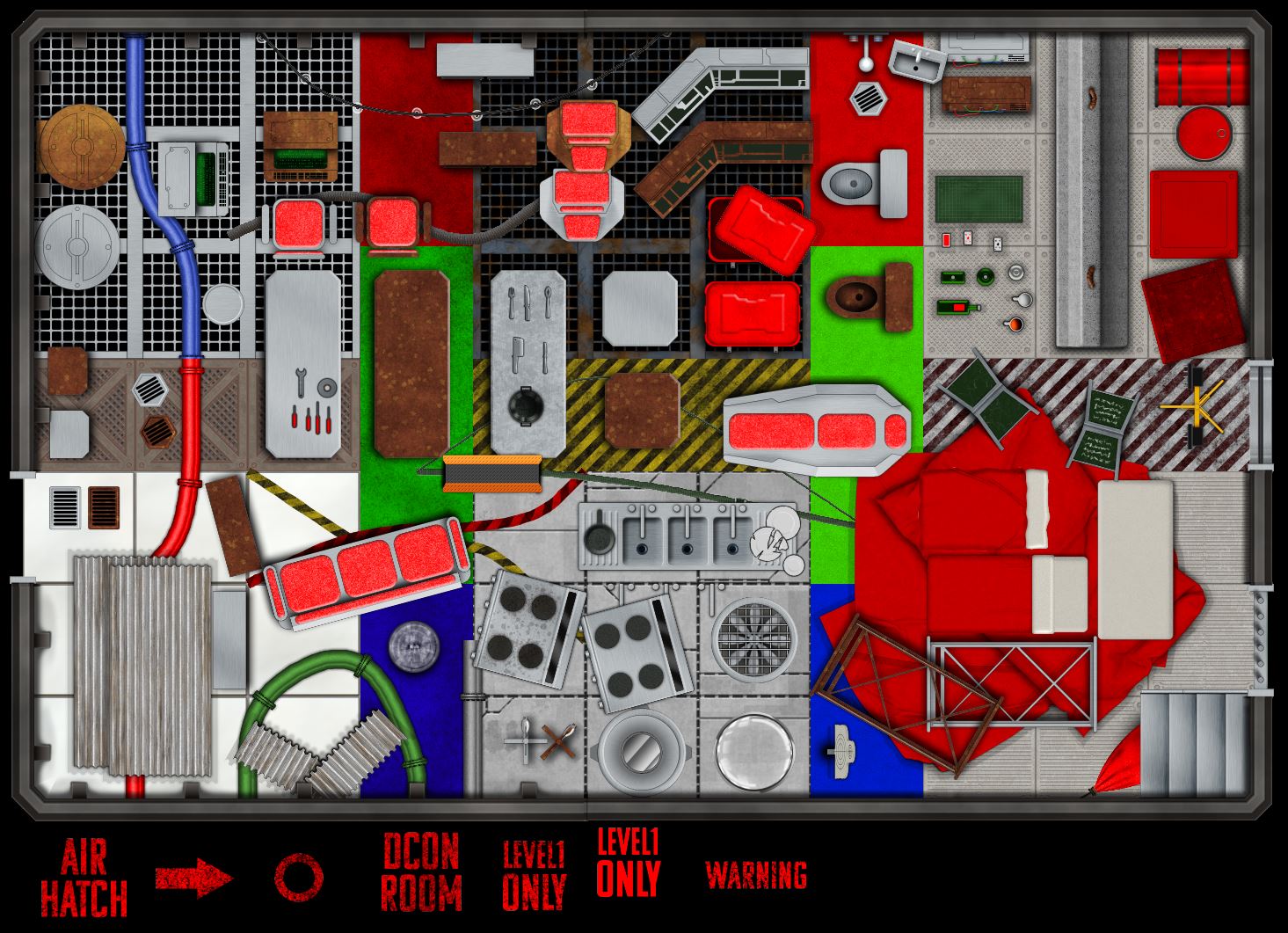 Related Assets
HellScape is a whole set! Here are some other assets designed to be used with Airship:
The HellScape series was started in order to help me build my upcoming campaign. Set in a post-nuclear war, I needed to build out the interior of a vast military airship, and I couldn't find the resources to do it in the style I desired.
Airship isn't just a 'sample' or demo. It's the core asset pack at the center of HellScape, provided here for free. If you would like to support my efforts, and could use more specific assets, consider becoming a Patron and gaining access to add-on packs as they are developed. Would you rather make a one-time donation? I have a Ko-fi account for that!
HellScape – Scrapers: Early Access on Patreon – Modern office building roofs, roof equipment, office furniture, desks, chairs, computers, fire extinguishers, and everything you need to build modern office buildings, or ones that have been devastated by nuclear war.
HellScape – TechShip: Early Access on Patreon – Think of this as DLC for Airship. TechShip pushes more toward Star Trek, Star Wars and Battlestar Galactica in its influences.
HellScape – Wastes: In Development – Roads, mangled cars, dead radioactive earth. The Wastes are a dangerous place, filled with glowing things and the rotting corps of a modern society. Styled after Mad Max, Fallout, I Am Legend and anything else set in the 'after times.'
HellScape – Military: Early Access on Patreon – Everything you need to build an active, or abandoned military base.
HellScape – Cyber: Early Access on Patreon – Cyberpunk walls, floors, computers, wires ice baths, food stands and more.

Builder's Notes
Click here to watch a YouTube video walking through these assets and how to best put them to use.
I have baked shadows into my assets. This was a stylistic choice, and likely won't change (Starting September 2021, I've started moving towards a shadowless style designed to better match with Forgotten Adventures). With this pack, I recommend turning off shadows on walls and objects. Instead, use the shadow paths I've provided for added shading, or check out the far superior shadow pack by Krager here. If you can live with the quality of my own shadow work, my guidance is simple: Use a gradient path set to fade on both ends.
As a user of Foundry VTT, I prefer my doors to be open doorways. Foundry shows a door icon indicating that door's state, so I find a baked in closed door far more distracting. This is why you will only find open doorways in this pack, as of this writing.
The 'tubing' path is very useful, but it is very large by default. You will want to start with a smaller size for the best effect.
Pipes, railings and caution tape work much better if you turn the smoothing all of the way down. On the flip side, make sure smoothing is all the way up for shadow splines. This will help avoid overlaps.
More information
Not specifically tailored for any software