Become a Patron!
Engine (colorable)
Well car (for standard cargo container. See TygerModernStorage) (colorable)
Tank car (colorable)
Hopper car (colorable)
Flat cars (2 sizes) (colorable)
Box cars (2 sizes) (colorable)
2 Coal cars (1 full, 1 empty) (colorable)
3 Crossing arms (1 up, 1 short, 1 long)
RR crossing pavement markings
Train tracks on gravel object
Train tracks object
Train track RR crossing track end and mid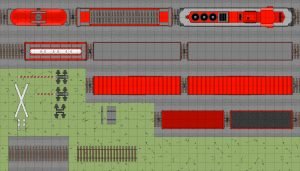 Paths
Gravel
Tracks on gravel
Tracks
Gravel as Terrain
Her is an example of how RR crossings are set up
More information
The item has been verified to work with
Dungeondraft
.