Widower Alchemist's Hut [20×20] by CozyMaps
Each of us has our own little takin, secrets that we do not want to tell anyone. This map will tell the story of an alchemist widower who did not accept the loss of his beloved. He did not give up, did not accept the loss and began to look for ways to bring it back. What did he do for this? what prohibitions have you violated? How many sacrifices did he make in his secret room?

You can find this map on my patreon 
I will also be happy if you join my discord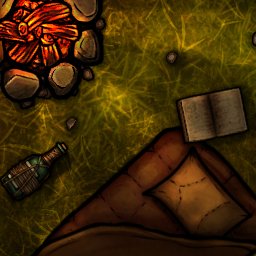 Free
More information
Not specifically tailored for any software
Extra information
Tom Cartos, Forgotten Adventures, White Fox Works

fits a 20x20 grid

License information
This asset pack or map falls under the
CAL-BY-NC
license.
This item has been uploaded by the original creator.
Additional notes
General Enquiries
There are no enquiries yet.