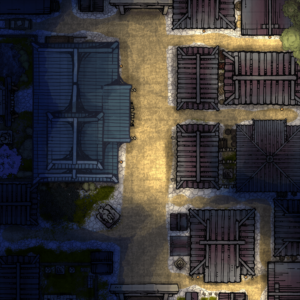 The package contains two .pngs for the day and the night map and the dungeondraft file for personal modifications.
More information
Not specifically tailored for any software
Extra information
Credits and many thanks to all following Asset Creators because honestly i didnt made an exact list of which asset i used from whom so i credit all:
Forgotten Adventures
GogotsMaps
2min Tabletop
Tyger_purr
Apprentice of Aule
Essendi
Crosshead Studios
Geordi
Nexoness
Assets i cant find the author to, but thanks.
Thatched Rooves Lite
Cover Your Trail – Creature Tracks and Footprints Collection
And Credit to Megasploot for creating the tools i use for mapmaking.
6400x6400 pixels
25x25 tiles