Creator Guidelines: How to present your artwork
Creator Guidelines: How to present your artwork
Summary
To make life easier for you, here are a few recommendations!
Product icon/thumbnail: 600×600 pixels.
Showcase gallery images: width of at least 600 pixels or wider. For the size it is recommended to keep the same height as your icon (600px) but you can go higher if you want.
Description banners: width of 1290 pixels, height of around 175 pixels.
Storepage banners: width of 1650 pixels, height of 200 pixels (mobile: width of 520px, height of 150px)
Styling your products on CartographyAssets
Product cards
Product cards showcase the product on the website. They come in two variants: normal and frontpage version. The frontpage version is a bit larger and showcases more information such as downloads, description, categories and more.
For your product icons / thumbnails you should upload a image of 600 x 600 pixels, preferably in WebP format. They will be cropped to fit a 1:1 ratio (square). The icon can have text on it, but keep in mind that the way products are displayed may change overtime. So avoid adding too much information and stick to whats important: showcasing the product itself.
Product page
The product page should be all about the product you've posted. The goal here is to showcase what you've made and to inform the user about it as best as we can. For paid products: we want customers to be able to make a good decision based on the information presented to them. They should know beforehand what they get when buying a product.
Showcase gallery
Every product has a showcase gallery on the top of the page. The first image displayed is your featured image / thumbnail / icon. The other images shown are the uploaded gallery images. It is recommended to have at least 3 showcase images besides your thumbnail. Showcase images have a width of 600 pixels and can be any height.
Tip! Did you know you can also add YouTube videos to the gallery? You can also add audio to your description!
Description & Images
You description might be one of the most important parts of your product showcase page. It should tell the user whats in your pack and how they might use it (for example colourable functionality for Wonderdraft or Dungeondraft) Descriptions can have images and banners in them to make them look nice, stand out or to showcase something! Take a look at the example on the right! The top banner is 1290 pixels wide and around 175 pixels high.
Try to keep it all simple! The less clutter the less risk of a customer mistakenly expecting content to be included. Are you only selling the license of a specific product? Clearly state so and try not to include many details of the artwork, as that might give the impression that it's included.
Your Storepage
Your storepage is the page where all your content is shown, make it yours!
The one thing standing out on your storepage is its banner on the top! It should be about 1650 pixels wide and 200 pixels high. Your avatar is displayed on the left.
Tips from Creators
BluBerrey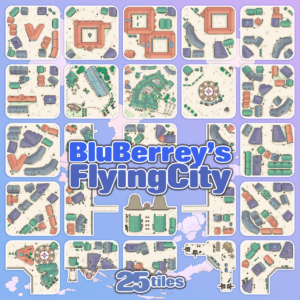 Pick a look and stick to it with every aspect of your online presence.
Have a visual idea of the type of content you want to create: realistic, stylized, how much stylized, what kind of 'vibe'? Happy/Cute/Cartoony, more pastelle palettes, more saturated, detail level etc. Once you know what kind of visual you want to achieve, Stick to it!! Super important to create an online presence imo. This doesn't mean you can't evolve and try new things, and it will change slightly as time goes on, as it did for me too, but still. Always keep your original idea in the back of your head. Your logo and other visuals should fit this idea too. In my case: Cartoony, happy, pastelle, crayon-like drawings, my logo fits for this: A happy mascot holding a map. etc etc.