Huge Maze [60×60] by CozyMaps
Free
Huge Underground Labyrinth – most likely this is another room (barrier) in the dungeon that your players will get into. I added 4 fountains to the map, you yourself can decide what effects the liquid from it has.

You can find this map (bonus versions) on my patreon 
I will also be happy if you join my discord

Creator: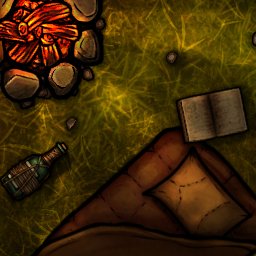 CozyMaps
Compare
Description
There are two cells in the corners, it is assumed that monsters live there, you yourself can decide which and how many. It could be minotaurs or undead, but it could be anything that fits into one square.
Also, I did not add explicit traps to the map, you can place them anywhere you want. The circles on the floor are triggered traps. I also advise you to decide in advance about the traps in the chests, are they reusable?
License information
CAL-BY-NC
Yes
Extra information
Tom Cartos, Forgotten Adventures, White Fox Works

fits a 60x60 grid