Yellow taxi
Colorable taxi
Ambulance
Generic American black and white police car
Generic American colorable and white police car
Generic American one color colorable police car
UK police car
French Police Nationale car
German Polizei car

Small and large flatbed truck
Small and large box truck
Tow truck
Garbage truck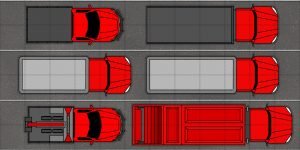 Utilities/Service truck (colorable)
Pickup with ladders, rack, tool box, and storage boxes (colorable)
Van with ladders on roof rack (colorable)
5 Pickups (colorable)
3 Limousines (colorable)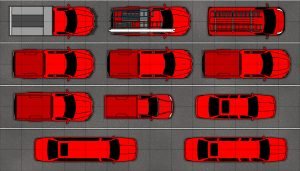 Large SUV (colorable)
Small SUV (colorable)
Passenger van (colorable)
Panel van (colorable)
Passenger minivan (colorable)
Panel minivan (colorable)
2 Wagons (colorable)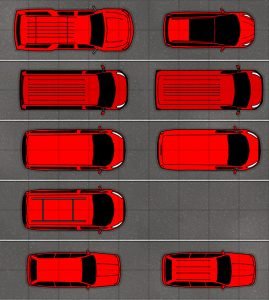 Coupe (colorable)
2 Crossovers (colorable)
3 Muscle cars (colorable)
7 Sedans (colorable)
2 Sportscars (colorable)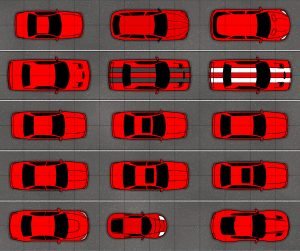 I have also thrown in some parts from the work trucks.
4 ladders and a storage bin.
To help with realism, I have also included a object of color you can sample from to make the vehicles in colors similar to those actually used by manufacturers.

Interesting note:
If you are trying to fill a parking lot ad make it look real, the most common color vehicles are:
(exact percentages and order varies from country to country and year to year but these numbers are quite common)
Black 20-25%
White 20-25%
Gray 15-20%
Silver 15-20%
Blue 7-10%
Red 7-10%
All other colors make up about 10%
More information
The item has been verified to work with
Dungeondraft
.