Become a Patron!
1 Triangular table top ad
3 Menus, (closed (colorable), open, and single sheet)
2 Paper napkin (Serviette

) dispensers 

1 Salt and pepper shakers
2 Benches (colorable)
4 Chairs (colorable)
3 Booths (colorable benches)*
2 Table with fixed chair sets (colorable seats)*
*The rectangular tables on these objects match tables below to allow a colorable table to be place over the brown table.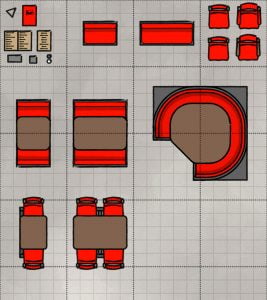 5 Square/rectangular tables
2 Round tables
More information
The item has been verified to work with
Dungeondraft
.