The labor of a Master Builder has produced this pack of unique walls, floors and accessories.
The Dungeondraft Architect's Pack includes 120 assets and a high-resolution encounter map:
40 walls total, based on 10 unique styles, dark and light options as well as subtle rust brown-colored options
All the walls are configured as paths (because wall paths are handy)
32 floor patterns, based on 9 unique floor styles in gray, rust brown and green colors (Rock 19 in my Rock Terrain 1 pack was used to texture and colorize)
All floor patterns are also terrain (so you can blend them with other terrain)
28 fancy tile patterns (these are designed to be used as decorations or to sparingly add interest to a larger floor – they could also be used as fancy pillars and other structures or objects) 
Black and white ink paths in 4 transparency levels (100, 75, 50, 25).  Useful for creating uneven dark and illuminated edges, fronting stairs, and adding details such as floor cracks)
6 round pillars and 6 square pillars
"The Artifact Room" map, 10×10, 256ppi (this pack's promo pic at full resolution without title watermark)
This pack is licensed for commercial use.  A personal use version is also available in my store.
The Architect's Pack series includes Architect's Pack #1, Architect's Pack #2, Architect's Pack #3, Architect's Pack #4,and Architect's Festive Pack.
Visit https://ko-fi.com/epsilon7430 for my free maps and to support my art.
Sample Map -"The Artifact Room", showcasing walls, floors, and other accessories from the Architect's Pack, as well as my Rock Terrain Pack 1 and 2, and Water on the Rocks Pack.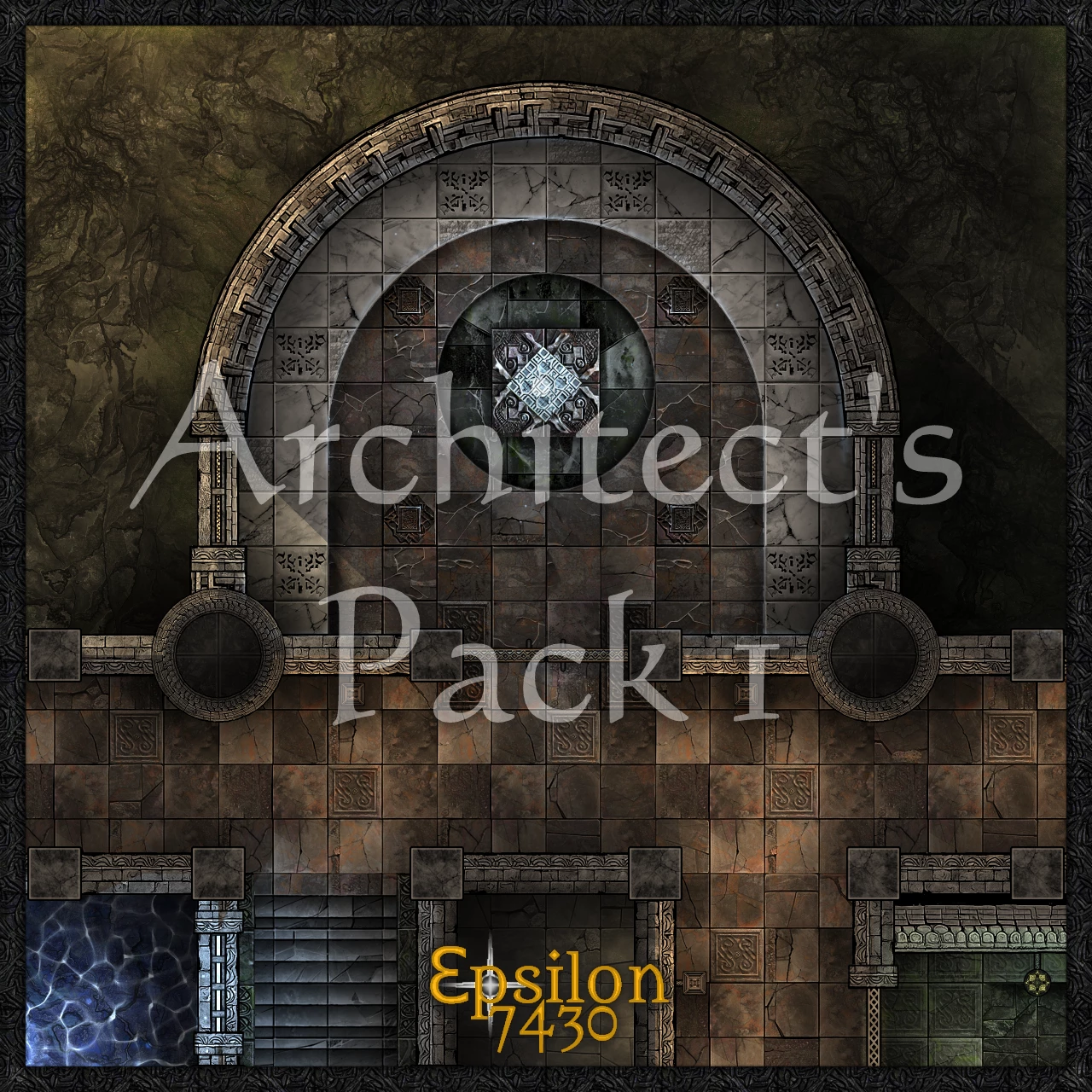 More information
The item has been verified to work with
Dungeondraft
.