Update: this pack includes two Dungeondraft pack files.  The first pack file contains the original terrains.  The second file contains a selection of original terrains with alpha transparency so that cracks can be filled using other terrains on top.  These terrains can be used without smooth blending.  This update makes this asset pack even more versatile.
The Wastelands Pack for Dungeondraft is so unique I was conflicted on what to name it, because "wastelands" only scratches the surface.  Admittedly, the variety of terrains leans strongly to painting a poisoned, alien or Hell landscape, or an Abyssal nightmare world.  However, there are also greyscale textures to create more subdued maps.
The pack includes 122 terrains, many are matching combinations in a variety of colour saturations, greyscale and alpha transparency, as well as five distinct greyscale lava rock formations.  These terrains play well with my rock terrain packs and terrains made by other creators with a similar style.  The terrains really come alive with added shading, lighting and grunge overlays.
Terrain textures are designed to be blended together and best results are achieved with Dungeondraft's "smooth blending" option enabled (unless using the transparent terrains).  Because blending textures is so much fun, be prepared to enable all 8 terrain slots!
Personal use only (CAL-NA-NC-NS).
Visit https://ko-fi.com/epsilon7430 for my free maps and to support my art.
The following map "The Last Hold-out" was made in Dungeondraft, using patterns and terrain from my Rock Terrain 1 Pack and the Wastelands Pack, as well as assets by White Fox Works (statue), Krager (shadows and lighting), and Forgotten Adventures (central rock and grass terrains, wibbly-wobbly line and fire effects).  15×15 grid, 128 ppi.  The Last Hold-out depicts the barrow mound of a once great, holy knight.  The surrounding lands were beautiful and fragrant, and people would visit the site and lay flowers at the feet of the statue to honor the knight's history – until the demon got loose.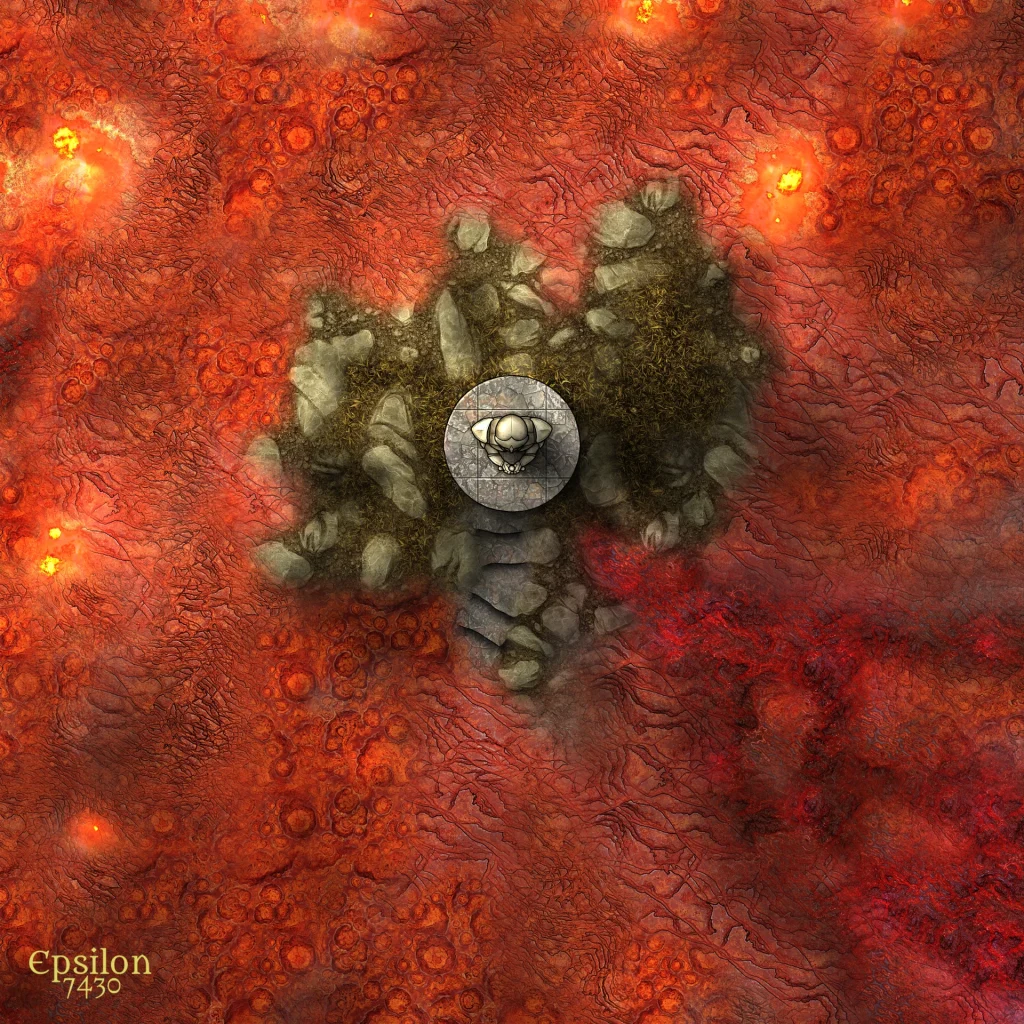 More information
The item has been verified to work with
Dungeondraft
.